Reading of VSH on Vimeo
To commemorate the end of my show at Williamson Knight and to celebrate the second edition of the book, I read the whole text of Vintage Self Help in my studio bed and posted it on Vimeo.

Enjoy.
---
My obsessive playlist on 'What Artists Listen To"
Listen to what I listen to, or hear me & Pia Pack talk about PJ Harvey on this new podcast.

'What Artists Listen To" explores the soundtracks of Los Angeles female artist's lives through discussion of the tracks on the curated playlist.'
@whatartistslistento on Instagram, Twitter and Facebook.
---
ISSUE FOUR: The Pattern launches Saturday, March 3!
Issue Four: The Pattern
launching March 3, 2018
at Charlie James Gallery
By Sacha Baumann

Our fourth issue will explore the appearance of sameness.
Collaborators will share systems of recurrences, whether found in nature, in society at large, or self-manufactured. The broadsheet will reveal repetition in our environment but also in behaviours, relationships, and personal routines. Artists, designers, and writers elaborate on the air of coherence, which is often the complete opposite: chaotic, messy, and wholly unique, despite its seeming monotony.
---
B.O.W. at otherwild!!!
Yes..... You can now pick up the Binder Of Women limited edition folio at Otherwild in LA and online!

DO it.
---
Spirit Bodies: on the work of Hayley Barker, by Jennifer Remenchik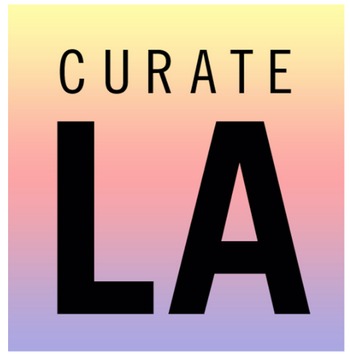 It's not five minutes into the studio visit and we are already talking about trauma. Initially I feel self-conscious about this because I am always talking about trauma.

by Jennifer Remenchik

Luckily, she has her own history and it's one of her favorite topics, too. She offers me a drink of sparkling water which I readily accept as I take a longer look around the room.

What jumps out at me immediately is the singularity of her imagery; every painting and drawing visible contains the image of a face. Emmanuel Levinas once famously said that the face "presents itself, and demands justice," and it is through this ethical sentiment that we can begin to confront the work of artist Hayley Barker.

In the aftermath of a trauma we often ask ourselves spiritual questions, and yet anyone who has been on a quest for meaning knows there are a lot of detours on the road to enlightenment, many of which involve money scams, half-baked ideas, and just plain disappointment. A painting "Opened my root chakra now what? Volcano" (2017) playfully alludes to this reality without coming across as disrespectful. Another drawing "i opened my eyes and chose not to see" (2017) sounds more serious in its ramifications. Did the "i" mentioned choose not to see because she's found a deeper reality or truth, or would she simply rather remain in denial?

Barker describes her work as depicting "spirits and guides, goddesses and sometimes versions of myself, disembodied," and the characters in her work do in fact feel bodiless. Built up of small, fragments of color that draw heavily on the legacy of pointillism, her spirits seem almost-invisible, caught in a space between arrival and exit. We end our evening that night with a promise of studio visit reciprocation, and in the morning I awake to a notification that barker_hayley mentioned me in a comment.

Barker has posted an image of a new "bed drawing," an ongoing series of artworks she makes very early in the morning. The series depict a range of emotions, many of them veering towards angry, and contain the immediate simplicity of raw, honest communication. The comment beneath the image reads, "inspired by our talk last night @jennifer_remenchik," and the title encapsulates our conversation in a question: "how can we show our traumas, how do we?"

Read on in the Curate LA Blog....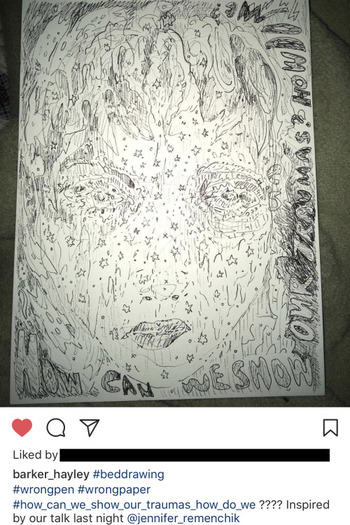 ---
We Made BEDSHIRTS!
Limited edition of 25
$50 Each
All are XXL
beddrawing by Hayley Barker
essay by Blair Saxon-Hill
designed by Antonia Pinter
hand-dyed & printed by Alex Seastrom in LA

Email me for your's.
hayleycbarker(at)gmail.com

The essay on the back of the shirt reads:
HAYLEY BARKER: 13 Paintings and some beddrawings

I always wanted to name something. Not a child

,

more avant-garde than that.

C

ombines.

A readymade.

And then s

he did

it

.

Hayley

Barker

started calling them

bedd

rawings

.

Bed

drawing

name

s

a

condition

of the

artist

's

body

that is

material to the

work

s' becoming

—

l

y

ing

down or

nearly

at rest,

n

ot dreaming but in

a

site of dreams

.

Bed is a place

in

habited by

illness

,

sex

, waking

,

and

retirement

in all its meanings

. T

hese

ways of being

in

bed

serve

as

our bridge or boat between life and death

.

Barker elects to fall outsid

e of time and the definitive—in

bed on paper.

These drawings are an intentional performance of awakening. Explicating the importance of the female artist body and her vagina

in

form and politic. Distinctly, Barker makes these performance documents undifferen

tiated sites of consciousness—

inviting spiritual realms to her rising.

The self in

bed is a

phenomenological

self and

a

n un

assembled self.

The

bed

drawings

hold an otherwise unattainable pur

ity of presence

.

Barker

transcribes linguistic outcomes

and visions from

her

Los Angeles

based

shamanic meditations

. She writes

words such as

, "Friday

, YEAH

", "

Breaker

Breaker

",

"Vitality Leak",

"Let Me",

"AMPM"

and "

Free This Sorrow

."

Her morning practice invites the mind to be uninhibited

and

releas

e

concerns of

health

,

labor,

saccharin horror, illness, love, friendship, capacity,

news

,

and information—

the now.

J

ewel-

like

forms and semiprecious words

are

slip

ped

from

the meditative bezel of her waking

and directed

into

Barker's

drawings and paintings.

Can a

beddrawing

be made out of bed? I must sleep in my

studio in order to finish

a body of

work

.

Barker

is known to sleep in her studio too

. We

have

discu

ssed

the basics

on the phone

—

clea

n underwear, arrowroot for

oily hair

,

and how being feral

is essential to

the evolution of commitment. So I

'm not really sure that the

bed

drawings

aren't

sometimes

made in the st

udio, m

aybe on the studio couch

or bedded down on the floor

after

kicking the to

ols of oil painting aside.

Along w

ith the

evolution of the

beddrawings

came the dimly lit

I

nstagram

posts.

Photographed

at an angle

,

occasionally exposing the bumps of her knees under the covers, she assures us

, that y

es, indeed

,

these

were drawn in bed and the sun hasn't

risen yet—

it's morning.

These images are frequently posted with

the

hashtag

s

#

thewrongpen

,

#

thewrong

paper

.

Barker

is

emphasiz

ing

t

he pleasure

derived

from

medium—

valuing

the

physical realm as much

as

what is

intuited

, felt

and unseen

.

And i

n fact,

the wrong paper or pen

at times

,

are

in

serv

ice

of the

paintings.

Barker's energetic works maintain a central composition; a reflection—a woman—she gazes outward or in towards us from the page. A guide. It reads as having been divined

.

And yet, w

e

are

at once

reminded of Barker's hand

in its

giddy

quality,

witnessing her

play

against

the

tooth of the paper;

like a cat

batting

a

mouse.

Lines

curve

in

ward

,

moving

from petal

to spiral.

They

q

uiver, dot

, dash

, push

and "x"

b

efore

star

r

ing

here and later on panel

.

Contorting her hand, Barker annunciates

pleasure

.

Her

allover

marks

are

often

gentle—e

ven when

her figure's eyes and mouth

are possessed with

an inaudible answer

and

outrage.

I ask her, "Where are they angry?" She says, "In the mouths."

This is not a poem on a

bedshirt

. Presented in this exhibition is a series of intimate works on panel each produced in oil, pastel and color pencil.

Thirteen paintings;

I

guessed that this was a nod to a modernist

titling

convention.

When I asked,

Barker

sa

id, "T

hirteen is unlucky,

cursed, damned,

and

fated to suffer

."

Following with

,

"I

don't really

believe

in

that

."

S

tating that s

he

instead

centers

her

belief

on inherent

"

goodness and forgiveness

.

"

In

p

aint

we see

,

"don't mourn your darkness" and

"

we

gunna

do it my way this time

"

uphold

ing

joy

as a contemporary

shorthand for an

ethic

of

survival

and

female power

in

perpetuity

.

T

he

se

contradiction

s between expressed grace,

strength

and strife

make

these 13 paintings so utterly becoming not only in execution but

also

in their savvy to the manner of our daily currency.

Barker published a book

in 201

7

entitled,

Vintage Self Help

, serving

a raw and poetic account of the relation between her horrific

,

a

nd life-threatening experiences

released from her body and history, and the impact of those events on her practice.

Today, Barker stands outside the Friday of

our cultural thirteen.

Now s

upporting herself

against the many blows of our national trauma

,

she looks

in

and out to spirits

.

We face her face and yet we are not fully enabled to see. She determines a flatness that reflects on perception itself. Fielding edges, it is she that will return to bed like a scribe vetting pen and paper as she does the morning.

___

(c) 2018 Blair Saxon-Hill
---
Open Studio @ BozoMag: 13 PAINTINGS
Bozo Mag is pleased to announce "Open Studio", a showing of new works by Hayley Barker.

This event will be the first in a series of engagements to occur in Bozo Mag's new, temporary location.

Opening reception: Sunday, February 4th, 2018
4-8PM



On view: 13 paintings by Hayley Barker





Also Featured: Selections from the "Bed Drawings" series. Copies of the second edition of "Vintage Self Help", a book of short essays on Trauma. Copies of "Beddrawings: Dark Goddesses, Queens, & Swamp Things", designed by Antonia Pinter. Limited-edition bedshirt in collaboration with Blair Saxon-Hill.





Open Sunday, February 4th until Friday, February 16th



Bozo Mag located: 5376 West Adams Blvd., Los Angeles, CA 90016
(Enter on S. Burnside Avenue thru the Gate door.)



bozomag.com

• 323 896 0712 for more info

Closing wil be Friday 2/16/18 from 7-10 PM!
---
BEDDRAWINGS: DARK GODDESSES QUEENS SWAMP THINGS
Buy the first book of Beddrawings!


DARK GODDESSES QUEENS SWAMP THINGS




2017


zine
Edition of 150

A selection from the first 350 drawings done during of the first year of beddrawing.....
Designed and edited by Antonia Pinter
For sale at Bozo Mag, Los Angeles
---
Feature Review of AMPM on Visual Art Source Online
Hayley Barker


Williamson/Knight, Portland, Oregon




Recommendation by Richard Speer



Continuing through February 24, 2018

Long a familiar presence in the Portland art scene, painter Hayley Barker has for the last three years been based in Los Angeles. In the mixed-media paintings that comprise "AMPM," she depicts a goddess-like figure who confronts the viewer with an implacable visage, crowned by a floral headdress. Who is this proto-feminist idol, and is she a totem of pulchritude, fearsomeness, or both? Barker leaves such speculations to the viewer.

The show's title alludes to false dichotomies between day and night and the ways in which artists move fluidly between them. The painter has retained the dense jots and dashes that characterized her previous brushwork, but has pared back her lush impasto for a more graphical sensibility. Viewing the current compositions is like gazing through her older pictures with the benefit of X-ray vision: laying bare the maze of mark-making that undergirded those earlier works without the distraction of surface effects. The obsessively compact lines and reiteration of the same semblance in painting after painting yields fresh insights into the imagination of a painter intent upon themes of mysticism and metaphor.
---
AMPM at Williamson Knight + Reception: Friday, January 19, 2018
AMPM
Hayley Barker
January 19 – February 24, 2018
Reception: Friday, January 19, 2018
6:00 – 8:00pm

Williamson | Knight is pleased to announce AMPM, an exhibition of new paintings by Los Angeles artist Hayley Barker. The show will open January 19 and run through February 24, 2018. A reception will be held on Friday, January 19 from 6:00 to 8:00pm. Gallery hours are Thursday through Saturday, 12:00 to 5:00pm.

AMPM—like the convenience store. You walk in, looking to quench some kind of thirst. You want quickness and reach around, grabbing for something that does the job. All day. All night. Like dreams and psychological states. Spiritual experiences that you ultimately enter—knowing delicacy or disappointment. There is a little bit of everything in the store, but maybe not exactly what you want. Maybe it's not enough.

In dreams and in shamanic meditation, there comes a flow of both spiritual and mundane imagery. Messages from guides and one's intuition. Meetings with spirits, goddesses, and versions of my-self. The paintings are self portraits; they are icons—reminders of who I have met, been, and could be in vast internal realms. They start with the "beddrawings" then become paintings. They include text and faces which come intuitively in morning drawing practices and reveal a woman-looking self in a slightly awake state. This is a state of desire, anger, exhaustion, and anxiety, all at once.
+Vintage Self-Help, a new book of writings by the artist, will be released and available during the opening reception.

(Above Studio Photo of HB by Trulee Grace Hall (c) 2018)
---
It's OK
Charlie James Gallery is pleased to present "IT'S OK. ↘" a group exhibition curated by Sacha Baumann, featuring Nadege Monchera Baer, Hayley Barker, Megan Mueller, Stephen Neidich, Kottie Paloma, Molly Segal, and Luke Whitlatch.
John Laroche: You know why I like plants?
Susan Orlean: Nuh uh.
John Laroche: Because they're so mutable. Adaptation is a profound process. Means you figure out how to thrive in the world.
Susan Orlean: Yeah but it's easier for plants. I mean they have no memory. They just move on to whatever's next. With a person though, adapting is almost shameful. It's like running away.
—excerpt from Adaptation, screenplay by Charlie Kaufman and Donald Kaufman, adapted from the book, The Orchid Thief, by Susan Orlean
Seven artists explore the profound process of adaptation, eschewing any shame. In fact, it's OK to adapt in an effort to be well-suited for the current moment or for an imagined future, despite the awkwardness mutability may expose. The artists employ disparate approaches: adjusting art practice to the space in which it is displayed, creating icons based on truths, adapting by moving on, creating armors for protection and dazzling displays, to both attract suitors and repel enemies. In "IT'S OK. ↘" adaptation is playful, practical, anticipatory, necessary, and sometimes excessive.
Nadege Monchera Baer's mixed media drawing-paintings migrate between two poles, one that is intuitive and abstract and another built by definitive concepts. For this exhibition the work primarily begun in the latter mode of a specific event and then completed through the former exploratory path, allowing gesture, pattern and layering to animate and release inherently frozen moments into a complex less fixed and known, ultimately transformative. Hayley Barker's paintings and drawings are self portraits; they are icons. Images start with "beddrawings" and then become paintings. They include text and faces which come intuitively in morning drawing practices and reveal a woman-looking self in a variety of psychological states. Her small works draw from the worlds of dreams, mystical states and the mundane. Megan Mueller's images are created by placing objects and photographs on a flatbed scanner, often inviting gesture and ambient light to distort the capturing of information. Her projects engage gravity, the peripheral and timekeeping through an ongoing investigation of the spaces where the built and natural environment merge. Kottie Paloma's new paintings are composed of muted colors and text portraying a rough poetry of daily life in which he describes as abstract narratives leading the viewer into snippets or chapters of a yet to be completed book. His sculptures evoke the idea of reuse, form over function, and serve as the 3-D component of his narrative style. Stephen Neidich's kinetic sculptures are made of industrial metal objects and tools found in the studio and the outside world. They leverage our familiarity of everyday objects against the experience and performance of making art. These gestural spinning and rotating sculptures make plain how, and from what materials they are made—they relish in the acrobatics of their production. Molly Segal's paintings of oil fields, dying thistles, cacti, and cockroaches serve as reminders of cyclical interdependence. She is concerned with the costs and limits of intimacy. The use of water-media on slick nonporous surfaces reveal what happens when boundaries begin to blur and bleed. Luke Whitlatch's mixed media paintings are visual representation of the ghosts of lore and personal experience. They are physical representation of the gray area involved in the passing on of stories. These abstract works act as a memorial for specific experiences that cannot be conveyed through conventional imagery.
About the curator
:
Sacha Baumann
is an artist, designer, and arts business professional living and working in downtown Los Angeles. She is the curator and publisher of FULL BLEDE, a free, independent contemporary broadsheet featuring art, writing and design;
Issue Four: The Pattern
is currently in production. Sacha is a Master of Art, Art Business candidate at Claremont Graduate University, Sotheby's Institute of Art / Drucker School of Management. She holds a Bachelor of Arts degree in Visual Communication from San Francisco State University.
---
Fresh Start at LAVA projects
The exhibition opening reception is Sunday Jan 14th from 4 - 7pm. and has 29 fab artists in it. @lava_projects

Ceci Moss with her mobile Gas Gallery will be parked outside for the opening too! @gasdotgallery

Fresh Start will run January 14 through February 25th.
---
Shows this Winter 2018
"Fresh Start," Group Show: LAVA Projects, Los Angeles, Opens 1/14/18

"AMPM," Solo Exhbition: Williamson Knight, Portland OR, January 2018

Group show at Charlie James, Chinatown, LA, Opens 1/22/18

Group Show curated by Laurie Nye: Big Pictures Los Angeles, February 2018

(Image above, "Zero Tolerance" is part of the Angry Suite of #wrongpen #wrongpaper Bedddrawings to be shown at WIlliamson Knight in January 2018)